Ranze furoku 1985
Ranze furoku
"1985 Ribon calendar" – January 1985
Wall calendar featuring art from all the popular Ribon artists.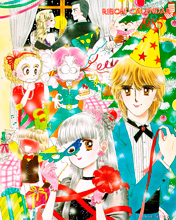 NEW!

"Ranze memo" – January 1985

A cardboard stand for holding sheets of note paper.
"Ranze & Yōko friendly bag" — February 1985
Paper bag.
"Lovely file" – March 1985
Binder with pockets inside.
"Mame seal" – March 1985
Tiny sticker sheet.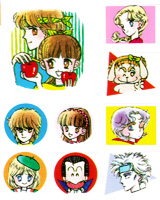 "All color note" – April 1985
64-page soft-cover stapled notebook with full-color pages inside.
"3-dai rensai hero jumpo poster" – April 1985
Poster.
"Kobuta no gakkō letter set" – May 1985
Set of one pad of writing paper, envelopes, stickers, and a small memo pad for extra messages.
"Runrun obento bag" –June 1985
Cardstock lunch bag.
"Pinup best 5" – July 1985
A set of five cardstock cards featuring title pages from chapters 26 and 29 as well as brand new art.
"New idol 4 travel trump" – August 1985
A set of playing cards featuring art by Ikeno, Honda Keiko, Kihara Chisato, and Sasaki Junko. Ranze is featured on the spade cards.
"Panic! Etō-gumi tai Kamiya-gumi" – September 1985
Booklet featuring a 68-page side story. See scans in color pages.
NEW!

"Yōko-inu oyasumi chokinbako" – September 1985

Cardboard piggy bank shaped like Yōko dog sleeping in bed.
"Sewing box" – November 1985
Cardstock box with drawers.
Previous page: Ranze furoku 1984
Next page: Ranze furoku 1986