Romantic Album fanbook
Tokimeki Tonight Romantic Album is a fanbook published back in 2000 to commemorate the conclusion of Tokimeki with the publication of Hoshi no yukue. It includes everything a fan would ever want: a long interview with Ikeno Koi, color illustrations, color pages showcasing merchandise, character bios and story guides, a plan of the Eto mansion, a glossary, messages from Ikeno's contemporaries in Ribon, and even a little quiz to check how well you know your Tokimeki canon.
It was an amazing book, but has since gone out of print and is now only available from used bookstores for a marked-up price, so I've decided to share some of its content here.
Table of contents
Tokimeki illustration gallery — a selection of color illustrations
Tokimeki characters guide — a guide to all the main and side characters including a diagram of their relationships
Dear Koi-chama — various manga artists contribute short letters to Ikeno

Hagiiwa Mutsumi
Hiiragi Aoi
Takahashi Yukari
Honda Keiko
Mizusawa Megumi

Tokimeki road theatre — a summary of all three arcs
Tokimeki goods collection — a selection of merchandise from Ribon magazine
Tokimeki world map — a guide to important locations in the story including a map of Makai and the Etō mansion
Tokimeki premium interview — an exclusive long interview with Ikeno
Shufu Yōko-inu no ichinichi — an all-new manga featuring Yōko dog and her family
Tokimeki sweet memories — a list of the most memorable moments of the series
Tokimeki tea time — conversations with Ranze, Narumi, and Aira as well as Moevius, Sand, and George
Ranze henshin grafitti — all the people and objects Ranze has transformed into
Rekidai heroine fashion catalogue — the outfits and hair styles of the three heroines
Tokimeki boys & men check — judging the boys and men of the series based on criteria such as looks and intelligence
Tokimeki mahō-hyakka — an encyclopedia of magic spells and items
Tokimeki cult — a trivia quiz
Tokimeki illustration gallery
The following color illustrations have been reprinted in this book:
Ranze furoku pinup "Makai no futari" (July 1985)
Ranze chapter 29 title page (November 1984)
Ranze furoku "3-dai rensai hero jumpo poster" (April 1985)
Ranze chapter 52 title page (October 1986)
Ranze chapter 41 title page (November 1985)
Ranze chapter 20 title page (February 1984)
Ranze side story "Christmas no okurimono" title page (December 1987)
Ranze chapter 43 title page (January 1986)
Narumi chapter 10 title page (November 1988)
Narumi chapter 17 title page (June 1989)
Narumi chapter 20 title page (September 1989)
Ranze chapter 57 title page (April 1987)
Narumi chapter 7 title page (August 1988)
Ranze furoku pinup "Kitchen music band" (July 1985)
Narumi chapter 22 title page (November 1989)
Aira chapter 27 title page (May 1994)
Ranze chapter 58 title page (May 1987)
Aira chapter 30 title page (February 1994)
Aira chapter 24 title page (August 1993)
Aira chapter 3 title page (September 1991)
Aira chapter 18 title page (December 1992)
Aira chapter 10 title page (April 1992)
As much as I love this book, the print quality of the color pages is sadly not the best, and I've been unable to make good scans of many of the featured color pages, simply because they're too small and grainy on the page. (Just yet another reason to demand a proper Tokimeki artbook!) But here's a selection of colors that still looked nice up close, and which isn't available elsewhere on this site in a better quality.
Ribon covers
In its 17-year history, Tokimeki was featured on the cover of Ribon magazine no less than 33 times. This book has one color page featuring all these covers, but again, the print quality is so poor that it was impossible for me to make a good scan. I've included the page here anyway, just to give you an idea.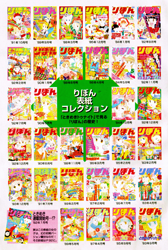 This is the number of times the three heroines have each been featured on the cover:
Ranze: 17
Narumi: 9
Aira: 6
Which gives a total of 32. The last one is the cover of the July 1982 issue, in which Tokimeki started serialization. But the girl on the cover isn't Ranze — she has short hair — because the series started in such a hurry that Ikeno had yet to make up her mind about the characters and the plot when she had to draw the cover.
Rough sketches
This is a page showcasing rough sketches of nearly all the Ranze arc characters, which Ikeno drew for the Ribon editor she worked with all through the Ranze arc. You can really see how good Ikeno is at drawing different types of characters and properly differentiate them in her art!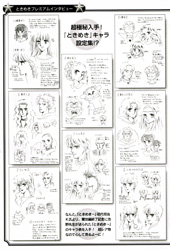 Tokimeki goods collection
By far my favorite color pages of this book feature a huge number of Tokimeki novelties that were made exclusively for Ribon magazine throughout its serialization, either as contest prizes or presents for all the readers. There's watches, all sorts of bags, stationary, clothing, even an umbrella! It's all unavailable today, obviously, but just looking at these pages makes me happy.
Shufu Yōko-inu no ichinichi (One Day in the Life of Yōko-dog the Housewife)
A short dialogue-free comic written specially for this book. Yōko-dog from the Narumi arc of the story has married Narumi's pet dog Run, and is now a housewife with five puppies. The story follows her life and includes a section where she's about to cheat on her husband with a handsome dog who looks not a little like Shun.