Ranze furoku 1982 to 1983
The Ranze arc of Tokimeki was enormously popular with readers, and one way (of many) we can tell this is by the sheer volume of furoku produced for the series. Ranze was often featured on the "big" furoku of the month, such as a notebook, letter set, or paper bag, and there wasn't a single month from September 1982 through September 1987 that Ribon didn't come with at least one piece of Tokimeki furoku. I haven't done the exact calculations, but if we include furoku produced for Ribon's supplementary magazines, the number of Ranze arc furoku is definitely well over a hundred.
After spending a few years collecting Ranze arc furoku from various online shops and Japanese auction sites, I was contacted by an incredibly generous Japanese Tokimeki collector who offered to pass down a ton of furoku to me for an amazingly reasonable price. This is how my collection now encompasses about 85% of all Ranze furoku ever produced. Thank you so much!
Ranze furoku
"Ribon idol sticker" – July 1982
Sheet of water-activated stickers featuring Ribon characters as well as Arare-chan from Dr. Slump and various then-popular celebrities, including Jackie Chen and UK band Madness. 70s furoku often featured real-life celebrities, although this trend was largely phased out during the early 80s. Dr. Slump was a popular series with children and featured on a handful of Ribon furoku in 1981 and 1982.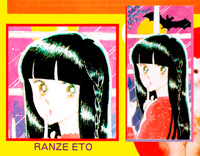 "100-page wide-ban betsusatsu manga Tokimeki Tonight" – September 1982
Booklet featuring a direct continuation of chapter 3. All together, Ikeno released 116 pages of manga this month.
"Ranze bag" – October 1982
Paper bag featuring Ranze and a group of animals.
"Anime trump" – December 1982
A set of playing cards. All four suits feature the same images. The Ace, Jack, Queen, King, and Joker cards feature manga art, while the rest of the cards feature scenes from the first episode of the anime.
"1983 Ranze calendar" – January 1983
Six-page wall calendar featuring four screencaps from the anime as well as two title pages from the manga (chapters 2 and 4), with a cover and small pocket featuring new manga art.
"Nenga-hagaki trio" – January 1983
Set of three new year's postcards featuring Ranze and 80s idols Kondō Masahiko and Tahara Toshihiko.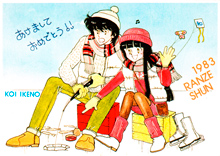 "Space bag" – February 1983
Square paper bag with string handles.
"Ranze seiza & ketsuekigata checker" – February 1983
Fortune-telling toy that lets you know if you're compatible with the boy you fancy by your astrological sign and blood type.
"Mini mini 30 seal" – February 1983
Sticker sheet featuring tiny square stickers from various Ribon artists.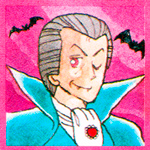 "Love love sugoroku" – February 1983
Ludo-type board game traditionally played during the new year.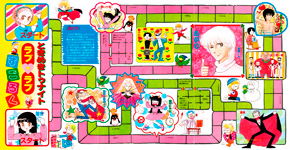 "Sign-chō" – March 1983
Cardboard binder with a message from Ikeno and blank pages to collect farewell messages from your class mates.
"Ranze note" – April 1983
32-page B4 soft-cover notebook in the style of a spiral notebook, but actually stapled.
"Ranze letter set" – May 1983
Set of a paper folder, writing paper, and envelopes.
"Fancy box" – June 1983
Cardboard box.
"Jumbo poster" – June 1983
Square poster.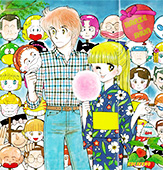 "Miracle iron print" – June 1983
Transfer sticker to be ironed on to fabric.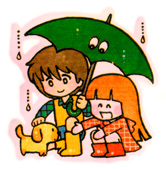 "Ranze joyful pair set" – July 1983
Cardboard binder with loose leaves of notebook paper and a small pocket inside.
"Ukiuki summer bag" – August 198)
Perforated paper bag with plastic handles.
"Ranze musical rack" – September 1983
Paper pockets with cardboard backing to be hung on your wall to keep small items in.
"Natsuyasumi koiuranai 88 seal" – September 1983
Sheet with small square stickers with fortunes written under them.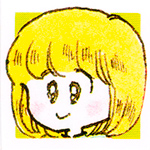 "Ranze family box" – October 1983
Cylindrical cardboard box.
"Ranze pad" – November 1983
Small memo pad with three different designs inside.
"Idol 4 trump" – December 1983
A set of playing cards featuring art by Ikeno, Hagiiwa Mutsumi, Honda Keiko, and Kihara Chisato. Ranze is featured on the heart cards.
Next page: Ranze furoku 1984