Narumi furoku 1989
Narumi furoku
"'89 system diary" – January 1989
1989 planner with an address book and stickers.
"Otoshidama kudasaai! Bukuro" – January 1989
Small paper bag for otoshidama.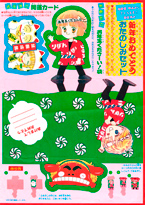 "1989 Ribon calendar" – January 1989
Wall calendar with Narumi featured on the July-August page.
"Lovely box" – February 1989
Cardstock box with two drawers.
"Chipple kōun no floral mascot" – February 1989
Good-luck charm.
"Tissue box" – March 1989
Cardstock box for pocket tissues.
"Eigo no obenkyō note" – April 1989
32-page soft-cover stapled notebook.
"House-gata makijaku" – April 1989
Tape measure in a house-shaped box.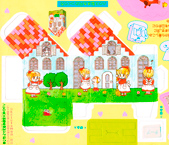 "Puzzle land binder" – June 1989
A set of a binder and loose leaves of notebook paper.
"Summer bag" – July 1989
Plastic bag.
"Ribon tokusei omamori card" – July 1989
Card bound with the magazine to bring you good luck.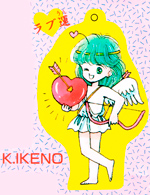 "Fashion yōgo-jiten trump" – August 1989
A set of playing cards featuring art by Ikeno, Yoshizumi Wataru, Mizusawa Megumi, and Takada Emi. Narumi is featured on the diamond cards.
"My Heart Memory" – September 1989
Diary.
"Hiking set" – October 1989
A set of cardstock lunch box and board game.
"Pop up letter set" – November 1989
A set of one pad of writing paper with P.S. cards, envelopes, and stickers.
"Dokidoki Christmas card" – December 1989
Christmas card.
Previous page: Narumi furoku 1988
Next page: Narumi furoku 1990