Narumi furoku 1988
Here, I have collected furoku from the Narumi arc. The Narumi arc is shorter than the Ranze or Aira arcs, which means less furoku were produced for it, but Ikeno's art was highly polished and cute during this time, and a lot of the furoku are incredibly charming and well-designed. Narumi furoku was as popular as Ranze furoku, which you can tell from how Narumi was consistently featured on so many of the big staple furoku: playing cards, notebooks, diaries, letter sets, binders, posters, bags, and so on. Towards the end of the Narumi series the furoku drop off, but this seems to have more to do with Ikeno taking time off for her pregnancy.
Narumi furoku
"'88 omedetō hana no kaori no nengajō" – January 1988
New year's postcard bound with the magazine.
"Valentine heartful card" – February 1988
Message card.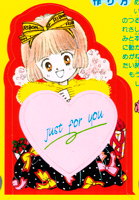 "Tokimeki land no ohinasama" – March 1988
Cardstock "hina" dolls and stand.
"Cooking pair note" – April 1988
A set of one 32-page soft-cover stapled notebook in Ribon size, and a much smaller 16-page soft-covered stapled notebook, both with full-color printing inside.
"Minna de party letter set" – May 1988
A set of one pad of writing paper with three different designs, envelopes, stickers, and P.S. message cards.
"Ribon idol seal & sticker collection" – June 1988
Water-activated stickers.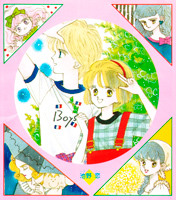 "Umi daisuki bag" – July 1988
Plastic bag.
"Pine no kaori no shochūmimai hagaki" – July 1988
Summer postcard bound with the magazine.
"Shiawase hanakotoba trump" – August 1988
A set of playing cards featuring art by Ikeno, Hiiragi Aoi, Takada Emi, and Sasaki Junko. Narumi is featured on the spade cards.
"Super wide pinup" – August 1988
Large poster.
NEW!

"Minna de wasshoi!! Jumbo bag" – September 1988

Paper bag.
NEW!

"Ribon ninki star shingakki variety seal" – September 1988

Stickers bound with the magazine.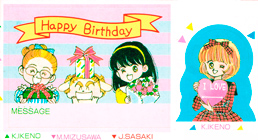 "Tokimeki sports land collection note" – October 1988
32-page soft-cover stapled notebook with many full-color pages inside. As well as note paper, the pages feature a pocket, small message cards, music casette labels, and a small booklet.
"Jumbo poster" – November 1988
Poster.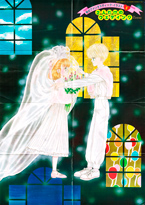 "Tokimeki aishō check disk" – November 1988
Fortune-telling game. Two people put their fingers on the red squares on the front, which are heat-activated to show different characters. The back will tell you what type of person you are and how well you get along with the other person depending on which characters appeared on the red squares.
"Tokimeki dai-circus Ribon file" – December 1988
Binder.
Previous page: Ranze furoku 1987 to 1988
Next page: Narumi furoku 1989