novelties
In every issue of Ribon magazine, you will find various giveaways the readers can enter to win. These can be contest prizes, usually for art contests, or giveaways of apparel and gadgets to people who send in answers to reader polls, or sponsored anime merchandise. Shueisha sometimes also gives out novelties at various events and at booksellers for PR. These novelties are most often exclusive merchandise printed with art by popular artists, and they are much more rare and much harder to find than furoku or zen'in reader presents you can see on the furoku page, since they were only given out to a few hundred or few thousand people.
Recently, I've been contacted by a lovely person who was as kind as to share photographs of her collection of Tokimeki novelties! Sadly there is very little information available about these items, such as what issue of Ribon they are from or how many pieces were created, but I hope you will enjoy the lovely images and that maybe this page will serve as a source of information for anyone looking to collect these items. Thank you so much to the anonymous donor!
You will also be able to find images of similar novelties in the Romantic Album fanbook, as well as on the tokimek1-starrynight tumblr and my magazine scans page.
And finally, I have also included scans of the few novelty items I personally own, and ads for novelelty merchandise from Ribon and related magazines I own.
Ranze arc novelties
Narumi arc novelties
Aira arc novelties
My collection
Narumi arc pre-paid telephone card novelty given out by Shueisha.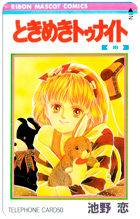 Ririka SOS plastic bag from Shueisha's 1995 Summer Comics Fair.
Advertisments
tokimek1-starrynight scans
tokimek1-starrynight is a tumblr account which posts a ton of Tokimeki images, including scans from Ribon magazine featuring novelties. I've decided to make a list of these posts for easy browsing.
Ranze novelties
Narumi novelties