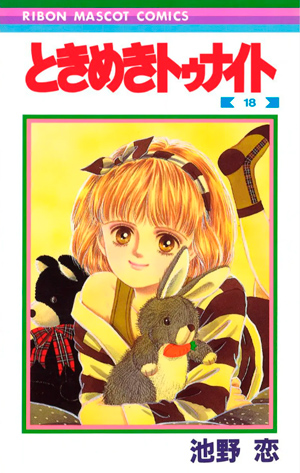 Narumi arc
Ichihashi Narumi is introduced in the Ranze arc as a young girl with a fatal heart condition. She befriends Rinze and is cured of her condition by George the grim reaper, and in the Narumi arc she reappears as a 14-year-old teenage girl who is in a steady relationship with Rinze. The Narumi arc is the shortest of the series, with only 29 chapters and a two-chapter side story, but it still contains many iconic moments and characters. Narumi and Rinze's story also continues into the first few chapters of the Aira arc.
Story
This section features heavy spoilers.
Part one: Narumi's school days
The Narumi arc starts with Ranze and Shun's wedding. Narumi catches Ranze's wedding bouquet, made of flowers from Makai, and when she consumed the petals in a cup of tea, she gains the ability to hear what animals and even inanimate objects are thinking. The story follows Narumi and Rinze as their relationship develops, but when the popular idol Futaba transfers to their class and falls in love with Rinze, the press turns their attention to the handsome Rinze. He starts getting stalked by the paparazzi, and there is danger that his secret identity as a werewolf will revealed to the world. We also meet many of the old characters from the Ranze arc again, such as Yōko who has become Ranze's best friend and the nurse at Narumi's school, and Aron who has become the king of Makai.
Part two: the fairy world
Narumi's father remarries, and Narumi gets a little sister, Mana. It turns out that she is the long-lost princess of the fairy world, and Narumi and Rinze must help Mana and her cousin, the fairy prince Chipple, to fight the dark fairies who have taken over their world. But when Rinze is attacked by a dark fairy, he loses all memory of Narumi and is pushed into getting engaged to Coco, the young princess of Makai. Will Narumi and Rinze be able to protect the world as well as their relationship?
Characters

Ichihashi Narumi


市橋なるみ

A human girl who was saved my Rinze as a child. She gains superpowers by drinking the petals of a flower from Makai.


Etō Rinze


江藤鈴世

Ranze's little brother and Narumi's boyfriend. He is handsome, kind, and smart, and the most popular boy in school. A werewolf.


Aoyagi Kōta


青柳幸太

Narumi and Rinze's childhood friend. He is bad at expressing his feelings, but cares about his friends a lot.


Anzai Futaba


安西二葉

A famous idol singer who transfers to Narumi's school and falls in love with Rinze.


Chipple


チップル

A young fairy boy from Makai who falls in love with Narumi.


Ichihashi Mana


市橋マナ

Narumi's step sister. It turns out she is the princess of the fairy world.


Kamiya Yōko


神谷曜子

Ranze's best friend, who is now the school nurse of Narumi's school.


Yōko Dog


ヨーコ犬

An intelligent dog that Yōko magically gives birth to after consuming flowers from Makai.


Coco Tina Warrencer


ココ=ティナ=ウォーレンサー

The princess of Makai. Is in love with Rinze and wants to break him up with Narumi.
Note: There are some foreign/Makai names where I've made up the spelling, because it's not made clear in the text.
Side Story: "Ginga romance no yoru"
A two-chapter side story about Futaba and Kōta was published in Ribon after the conclusion of the Narumi arc. It's a light-hearted story about Futaba meeting an alien who looks exactly like her, and them switching places so the alien can experience human life while Futaba can take a break from her busy schedule as an idol and an actress.
This is probably my favorite part of the Narumi arc, because I always really liked both Futaba and Kōta, and found their bickering relationship absolutely adorable. They began dating in the main storyline, and this side story develops the relationship between them by having them work together to save the alien girl when she's stabbed and hurt. The romantic comedy aspects of the story are cute, and Ikeno masterfully incorporates comedy, romance, and serious drama into this short story. The art is also beautiful, particularly the panel where Futaba and Kōta kiss for the first time.
Contemporaries
The serialization of Tokimeki in Ribon coincides with a period in Ribon's publication history when many, many popular and influential shōjo series were being serialized as well. Here is a selection of manga being published while the Narumi arc was running.
October 1989 issue of Ribon featuring Whisper of the Heart
Handsome na kanojo by Yoshizumi Wataru: This was Yoshizumi's first long-running series, and after its success she went on to write Marmalade Boy, which was turned into a massively-popular anime series.
Marine blue no kaze ni dakarete by Yazawa Ai: After many years of struggling to find an audience, this was Yazawa's first long-running serialization, and its relative popularity would lead to her breakout hit, Tenshi nanka ja nai. Yazawa has also spoken about how this was the first time her editor let her draw a manga that she actually wanted to write, and how freeing that was.
Mimi o sumaseba by Hiiragi Aoi: While this series was not popular in the magazine and was canceled after only four chapters, it was discovered by Miyazaki Hayao and later adapted into the popular Ghibli movie Whisper of the Heart.
Availablity
Ribon Mascot Comics tankōbon (1988-1990)
The Narumi arc covers volume 17 to 22 of the original tankōbon release of the manga. The tankōbon edition is out of print, but was made available as ebooks in 2013, e.g. at eBookJapan and the Amazon Kindle store.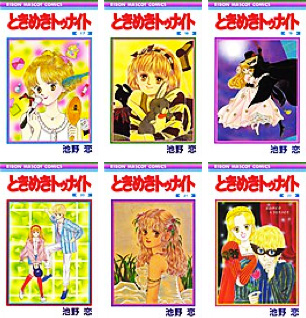 For some reason, Futaba's side story is included in vol. 25 of the tankōbon edition, in the middle of the Aira arc.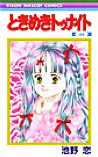 Shueisha bunko (2000)
Volumes 9-12 of the bunko edition includes the entire run of the Narumi arc. Again, for some reason, Futaba's side story is included in the last volume of the bunko edition, vol. 16.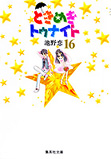 Italian edition
The entire series of Tokimeki was released in Italian from the publisher Star Comics under the title Batticuore Notturno — Ransie La Strega (and is still called this even when Ranze is no longer the protagonist!). The Italian edition seems to follow the original Japanese tankōbon release, meaning vol. 17-22 cover the Narumi arc, while vol. 25 contains the Futaba side story. According to amazon.it these are out of print, but probably available used.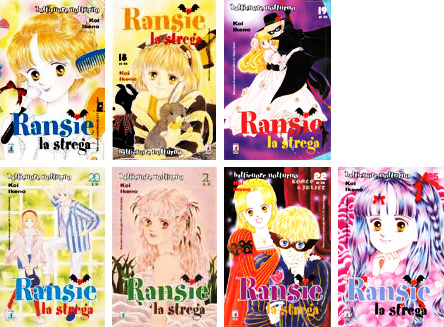 Indinesian edition
Tokimeki was published in Indonesia by Elex Media Komputindo Publisher under the title Throbbing Tonight. The Indonesian edition follows the Japanese tankōbon release, meaning vol. 17-22 cover the Narumi arc, and even uses the same images for its covers.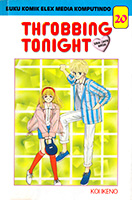 Thank you so much to Dio for scans and information about the Indonesian version!