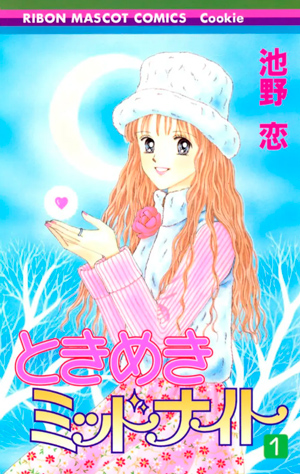 Tokimeki Midnight
Tokimeki Midnight is a spin-off to Tokimeki Tonight that was serialized in the magazines Cookie and Cookie BOX between 2002 and 2009. It's a "what if?" alternate universe story, exploring the idea of what might have happened if Aron was the prince who got exiled to the human world and grew up as a normal boy, rather than Shun. In this version of the story, Ranze is a human and dating Aron, while Shun grew up in Makai and comes to the human world to kill Aron.
The story starts out as a series of episodic stories, with Shun and Ranze chasing down people from Makai who are making trouble in the human world, but slowly turns more epic and references many of the dramatic plot points of the latter half of the Ranze arc. Ikeno calls this series a "self cover" (like a cover version of a song) or "self parody", and asks that readers to not take it too seriously.
Character changes
The most interesting aspect of Midnight is that the familiar characters from Tonight show up in many unexpected ways. The premise dictates that Shun grew up as the prince of Makai, but aside from that, who would have expected to ever see George as a traveling musician admired by all, or Dirk Carlo and Tsutsui Keigo as brothers?

Eto Ranze


江藤蘭世

The daughter of a vampire and a werewolf, she can change into anyone she bites.

becomes
→


Eto Ranze


江塔蘭世

A normal, human high school girl who is dating Aron.


Makabe Shun


真壁 俊

A delinquent human boy who lives with his mother, and enjoys boxing.

becomes
→


Shun Luke Warrencer / Mashiba Shun


シュン=ルーク=ウォーレンサー ・ 真柴シュン

The prince of Makai sent to the human world to kill is twin brother.


Aron Luke Warrencer


アロン=ルーク=ウォーレンサー

The prince of Makai. Falls in love with Ranze, and comes to the human world to pursue her.

becomes
→


Makabe Aron


間壁亜論

A normal, human high school boy who is in love with Ranze.


Sand


サンド

A minor character who is one of the king's henchmen.

becomes
→


Swand Roux


スワンド=ルー

A major player in the plot, a "magical beast" who swore alligiance to Prince Shun and will do anything for him.


Eto Mori / Mauri Etoule


江藤望里 ・ モーリ=エトゥール

Ranze's vampire father. Has a day job as an unsuccessful novelist.

becomes
→


Eto Mori


江塔望里

Ranze's human father. Is a believer in and researcher of Makai.


Dirk Carlo


ダーク=カルロ

A Romanian mob boss with mysterious connections to the Makai royal family.

becomes
→


Dirk Carlas


ダーク=カルラス

A half "magical beast" who is Shun's cousin and is ordered to hunt down Shun and Ranze.


Tsutsui Keigo


筒井圭吾

A human boy who is chosen to star in the movie adaptation of Mōri's novel, Super Cape.

becomes
→


Cain Arash Rowdeyn


ケイン=アラシュ=ロウディン

Carlas' younger half-brother who lives protected by himself, and is very lonely. Befriends Ranze.


Moevius


メヴィウス

The greatest witch in Makai.

becomes
→


Mevina and Medusa Tag


メヴィーナ=タグ/メデューサ=タグ

Witch and a warlock twins.
Itsumo tokimeite (2009)
A short story about how the characters of Midnight fared after the end of the series was published in Cookie in 2009, to commemorate Ikeno's 30th anniversary as a manga artist. It was later included in the if no frame tankōbon.
Availability
Tokimeki Midnight has been collected into nine tankobon, all of which are available both in print and as ebooks, and six bunko editions, which include afterwords by Ikeno relating to the 2011 earthquake and tsunami (Ikeno lives in Iwate prefecture, which was affected heavily by this disaster).