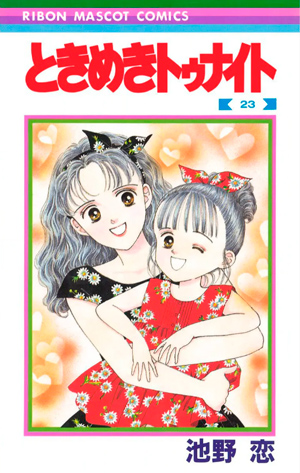 Aira arc
Aira is the daughter of Ranze and Shun. When she was born, she was holding a mysterious crystal in her hand; according to Moevius, she is also the great witch of legend, who will grow up to learn one-hundred spells and save the world when she meets the person who shares her destiny. Aira's arc begins when she is still a kindergartener, and we follow her as she grows into a high school girl. With 38 chapters, the Aira arc is the second-longest arc in Tokimeki — but its story was sadly cut short in 1994 to make room for Ikeno's next series Nurse Angel Ririka SOS. Five years later, Ikeno went back to finish the story as she had always intended to in the 150-pages long sequel, Hoshi no yukue.
Story
This section features heavy spoilers.
Part one: Kairi
Narumi's heart condition returns when Aira is a kindergartener, but she is saved by Aira and Rinze. Aira meets a mysterious boy called Kairi in her dreams, and it turns out that he was also born holding a crystal in his hand. The two kids grow closer as they go through many adventures, but Kairi's family moves away. Aira begins practicing to become a great witch under Moevius, and one night, she meets Kairi again in a dream — but he tells her that he's trapped with his family in a prison that is not of this world. Who is Kairi, why were he and Aira born holding the same crystal, who trapped his family and why, and can Aira save Kairi and his family from the mysterious prison? The Aira arc is very comedic, and in many ways mimics the beginning of the Ranze arc: Yōko's daughter Mumu is in love with Shun's son Taku, and acts exactly the way Yōko used to; Aron's son Leon is in love with Aira and acts exactly the way Aron used to; and there is a large focus on the kindergarten and school lives of the characters and the wacky hijinks they get involved in. There are many cameos from old fan favorites, including Narumi and Rinze, George and Sari, and even the old King of Makai (Shun and Aron's father).
Part two: Shinjō
After parting ways with Kairi, Aira grows up and attends middle school. She meets Shinjō Akemi, who is the football coach at Taku's high school, and at first they despise each other, but Aira falls in love with Shinjō when she finds out he is actually kind and caring, and loves nature enough to work at a flower shop. However, because Aira is prophesized to become the greatest witch in history, Moevius tells her she can't fall in love or date anyone: witches must be single, or their magic will weaken. Aira refuses to give up on love, which only makes Moevius try to sabotage her relationship with Shinjō more. This arc also focuses on the budding romance between Taku and Coco, but unfortunately does not resolve the plot threads set up in the Kairi storyline.
Part three: Hoshi no yukue
The Kairi storyline is wrapped up in this concluding chapter to Tokimeki. Aira enters high school and is still in love with Shinjō, but starts seeing Kairi in her dreams again. It turns out that Shinjō is an orphan who has no memory of his childhood, and when Aira enters the gate to the past in order to find out what happened when Shinjō was a child, she discovers that Shinjō is actually Kairi — but a version of Kairi who was accidentally sent into the past when he was about to drown, and this is why Shinjō is older than Kairi or Aira. When Aira returns to the present, Shinjō regains his memories as Kairi, and together they must try to fight the end of the world that Aira was prophecized to prevent.
The Hoshi no yukue tankōbon also includes four short sequels detailing what happened to the other characters after the end of the series, focusing on Mumu and Leon; Narumi and Rinze's family; Mana and Chipple; and Futaba and Kōta.
Characters

Makabe Aira


真壁愛良

Ranze and Shun's daughter. She is prophecized to become the greatest witch in history.


Minakami Kairi


水上開陸

Aira's childhood friend, whose family turns out to have a dark past connected to Makai.


Shinjō Akimi


新庄彬水

The coach of Taku's football team, who Aira falls in love with in middle school.


Kamiya Mumu


神谷夢々

Yōko's daughter and Aira's childhood friend. Takes after her mother and is very spoiled. In love with Taku.


Kamiya Fū


神谷風

Yōko's son and Mumu's twin brother. He is very kind-hearted, and in love with Aira.


Poteto


ポテト

Yōko Dog's grandson, and Aira's pet and best friend. He can speak and is very rational and intelligent.


Makabe Taku


真壁 卓

Aira's brother, and Ranze and Shun's son. Takes after his father and is bad at expressing his emotions.


Coco Tina Warrencer


ココ=ティナ=ウォーレンサー

Aron's daughter and the princess of Makai. Moves in with the Makabe family.


Leon Paddock Warrencer


レオン=パドック=ウォーレンサー

Aron's son and the prince of Makai. Follows his sister and moves in with the Makabe family.
Note: There are some foreign/Makai names where I've made up the spelling, because it's not made clear in the text.
Side stories
Only one proper side story was published for the Aira arc, but various four-panel comics have been published in Ribon furoku supplementary magazines.
Bikkuri dokkiri 3D gekijō
Two pages of four-panel comics were featured in this furoku booklet from September 1991. You can read them on the Aira furoku gallery page.
Poteto no Merry Christmas
This is a sweet short Christmas story focused on Poteto, Aira's pet dog, which was originally published in a winter "extra" issue of Ribon in 1993. Santa grants Poteto a wish and he becomes human for a day on Christmas Eve, and he meets a cute girl and they go on a date. At the end of the day they part ways and Poteto thinks he'll never see the girl again, but then...
There is a short amusing scene where Potato, in human form, meets Mumu, and she mistakes him for Fū. It makes sense — Fū is Yōko's son, and Poteto is the grandson of Yōko-dog!
Poteto no natsuyasumi
One page of four-panel comics featured in the summer "extra" issue of Ribon published in September 1994. You can read it on the magazine scans page.
Anime ehon
Two "anime picture books" were released in 1994. The Aira arc was never turned into an anime, but the books feature new anime-style artwork to cover the storylines about Aira discovering her supernatural powers, and getting lost with Kairi during a ski trip. The volumes also feature a sticker sheet with manga art.
Makai power de ōsawagi!
Bikkuri! Kuma to daisekkin
Contemporaries
The serialization of Tokimeki in Ribon coincides with a period in Ribon's publication history when many, many popular and influential shojo series were being serialized as well. The Aira arc, in particular, ran alongside many incredibly popular series, many of which were also turned into TV anime and helped push Ribon's circulation to a shōjo manga magazine record high of 2,55 million. Tokimeki was no longer the top series in Ribon at this point, but it was still considered a hit and had color title pages every month, as well as being featured in furoku and reader presents, showing that it held its own against the other hugely popular series at the time. Here is a selection.
February 1993 issue of Ribon featuring its top four series
Marmalade Boy by Yoshizumi Wataru: Yoshizumi's breakout hit was turned into an anime series that ran for one and a half years and averaged a rating of 12-13% (which was on par with or even better than Sailor Moon). It was also popular in many foreign countries, and was turned into a live-action TV series in Taiwan in 2001. Such is its enduring popularity that Yoshizumi wrote a sequel titled Marmalade Boy little in Cocohane between 2013 and 2018, and the original manga was turned into a feature film in 2018.
Hime-chan no ribbon by Mizusawa Megumi: Mizusawa had several hit series in Ribon before Hime-chan (such as Ponytail hakusho and Sorairo no Melody), but this was her first major hit that went beyond the magazine. It was turned into a successful TV anime, and also later a stage musical. It's about a girl who meets her lookalike from a magical kingdom, and receives a big red ribbon that enables her to change into whoever she wants. It's a return to the classic magical girl series of yore, particularly Himitsu no Akko-chan (which was also originally serialized in Ribon), but Mizusawa is a self-admitted Tokimeki fan, and the influences of Tokimeki are evident in this series. There is an entire storyline of Hime-chan which was edited out of the tankōbon release because (it is believed by fans) it bore too close a resemblance to the Tsutsui/Super Cape storyline of the Ranze arc.
Tenshi nanka ja nai by Yazawa Ai: Yazawa would later go on to write Gokinjo Monogatari and Nana, but this was her breakout series. It's about the friendship and romance between five members of a high school student council, and unlike Yazawa's previous work it is quite comedic and lighthearted in tone; this offsets her tendency to tell serious, sometimes depressing stories, and I believe this shift in tone is what enabled her to finally have a breakout hit.
Akazukin Chacha by Ayahana Min: The manga version of Chacha is a wacky comedy about a group of witches, wizards, werewolves, and other supernatural creatures. But when it was turned into an anime, it became a magical girl series about the protagonist Chacha turning into a "Magical Princess" and saving the world. The series was popular, running for one and a half years and 74 episodes, and its all-time highest rating was 15,8%. The series featured an opening theme by SMAP, Japan's most popular boyband, which became a hit, and Katori Shingo of SMAP also voiced one of the principal characters. Chacha is another series from this period of Ribon that enjoys enduring popularity, and a sequel titled Akazukin Chacha N was serialized in Cookie magazine between 2012 and 2019.
Chibi Maruko-chan by Sakura Momoko: Although Chibi Maruko-chan started serialization in 1986, it was in 1990 that it was made into a TV anime and became a household name, with a recorded all-time high rating of 39,9%. Its first ending theme, Odoru Pompokorin, became a huge hit, staying at the top of the charts for 54 weeks, and received the grand prize at the 32nd Japan Record Awards. The second series of the anime is still running in Japan, and is one of the longest animated series in the world. All the characters in the series are household names in many parts of Asia, such as China and Taiwan. It is one of the biggest, if not the biggest breakout hits of Ribon, although it's not a typical shojo manga; rather, it's a series of short essay comics based on the author's experiences as a child in Showa-era Japan.
Onna tomodachi by Ichijō Yukari: This was Ichijō's last serialized manga in Ribon before she moved to Chorus (renewed as Cocohana in 2011). It's also my favorite work by her; it's about the Japanese movie industry, and friendships between women within the entertainment industry. I enjoy it because it features many of Ichijō's trademark elements (secret family history, relationships between mother and daughter, professional women who take pride in their work), but also features many genuine friendships between women and ends on a happy note. It was not very popular in Ribon at the time, but this was more a sign of Ichijō and the readership growing apart than any lack of quality.
Availablity
Ribon Mascot Comics tankōbon (1992-1995, 2000)
The Aira arc covers volume 23 to 30 of the original tankōbon release of the manga, and is concluded in an extra volume, Hoshi no yukue. The tankōbon edition is out of print, but was made available as ebooks in 2013, e.g. at eBookJapan and the Amazon Kindle store.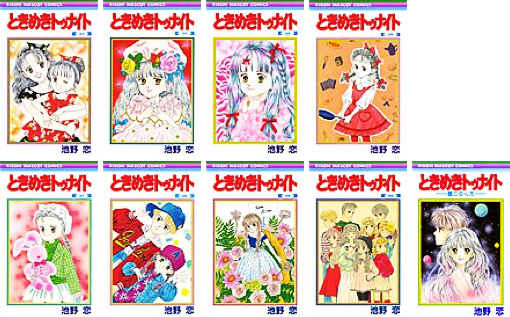 Shueisha bunko (2000)
Volumes 12-16 of the bunko edition includes the entire run of the Aira arc, including Hoshi no yukue.

Italian edition
The entire series of Tokimeki was released in Italian from the publisher Star Comics under the title Batticuore Notturno — Ransie La Strega (and is still called that even when Ranze is no longer the protagonist!). The Italian edition seems to follow the original Japanese tankōbon release, meaning vol. 23-30 cover Aira's story, and a separate volume called Nei pressi di una stella covers Hoshi no yukue. According to amazon.it these are out of print, but probably available used.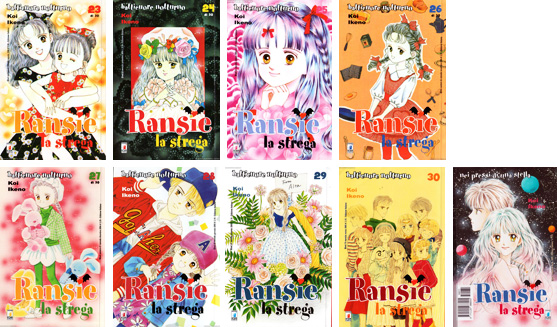 Indinesian edition
Tokimeki was published in Indonesia by Elex Media Komputindo Publisher under the title Throbbing Tonight. The Indonesian edition follows the Japanese tankōbon release, meaning vol. 23-30 cover the Aira arc, and even uses the same images for its covers.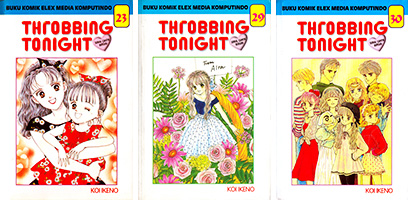 Thank you so much to Dio for scans and information about the Indonesian version!