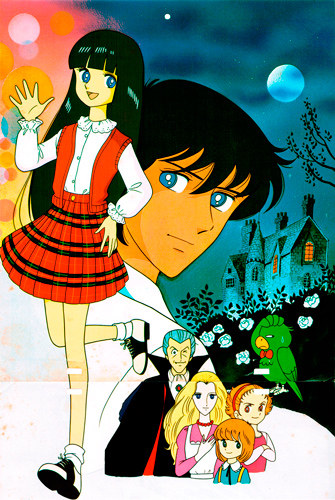 1982 anime series
The televised anime series of Tokimeki Tonight ran from October 7, 1982 to September 22, 1983 for 34 episodes. It was directed by Sasagawa Hiroshi of Tatsunoko Production, and the character designs were created by Takahashi Magoichi, which is the pseudonym of Takahashi Shinya who worked on various incarnations of the Space Battleship Yamato anime. It was produced by Toho and Group TAC, who has produced such famous series as Touch and the first series of Lupin III, and also co-produced Nadia: The Secret of Blue Water with Gainax.
Production background
Interviews with Ikeno make it clear that Tokimeki Tonight was a series created to run alongside a TV anime from the very beginning. Ribon's circulation was an impressive 1.3 million at the start of the 80s, but it was lagging behind its rival Nakayoshi with its 1.8 million circulation, and a TV anime seems to have been developed as an advertising tool to draw more readers, particularly younger readers, to Ribon. (Please see the about Tokimeki Tonight page for more information on this historical background.) I don't know why Ikeno was picked to draw this series, as she had only done two short serializations at the time; perhaps the Ribon editorial staff believed her comedic style would work well as an anime, and her position as a young up-and-comer might also have made it easier for the editorial staff to recruit her for this project.
I can't find any information on the anime's ratings, but I do not believe it was the breakout hit the Ribon editorial staff might have wished for: it was cut short after one year and only 34 episodes produced (at a time when popular anime series ran for several years and at least 50-odd episodes), and some of the tie-in toys such as the Ranze doll were notoriously unpopular with kids (please see the merchandise section for details). However, the manga version of Tokimeki was a massive success, becoming one of Ribon's flagship series and contributing to Ribon's circulation growing to more than two million by the end of the 80s. One could say that although the Tokimeki anime wasn't a huge hit, the project was a net success for Ribon magazine and Shueisha.
Influences on the manga
Because the anime was being developed and broadcast simultaneously with the manga, Ikeno has mentioned in interviews that she was influenced by the anime to create or include certain characters and plot points in the manga. Some elements she has mentioned are:
The anime staff wanted to make Shun and Aron twins, and came up the the character of Aron (this has been speculated to be inspired by the then massively-popular anime series God Mars). Ikeno changed his design for the manga, however.
The anime's depiction of Makai influenced how Ikeno later depicted Makai in the manga.
Discussions with the anime staff influenced the character of Tamasaburō (Yōko's father), and the anime staff also came up with his name.
Staff and cast
The information in this section is based largely on the Japanese wikipedia page as well as Anime@wiki. Please feel free to point out any mistakes or omissions!
Staff
| | | |
| --- | --- | --- |
| Position | Name | Other notable works |
| Character design | Takahashi Shinya | Himitsu no Akko-chan (1969 series), Sarutobi Etchan, Wakakusa no Charlotte |
| Series structure | Okabe Toshio | Mahō no idol Pastel Yūmi |
| Music | Ōtani Kazuo | Cat's Eye (OP and score), Glass Mask (1984 series), Oishinbo |
| Art dictor | Kadono Mariko | Hare tokidoki buta, Junkers Come Here |
| Chief director | Nagaoka Akinori | The Rose of Versailles, Dr. Slump Arare-chan, Touch, Record of Lodoss War |
| Animation director | Takahashi Shinya | Mahō-tsukai Sally (1966 series), Cutie Honey (1973 series), Mahō no tenshi Creamy Mami |
| Color design | Yokoze Rumiko | - |
| Title animation | Sugii Gisaburō | Belladonna of Sadness, Manga Nihon mukashibanashi, Ginga tetsudō no yoru, Touch |
| Sound design | Fujiyama Fusanobu | Pierrot mahō shōjo series (Momo, Mami, Persia, Emi, Yūmi), Touch, Baby and Me |
Cast
| | | |
| --- | --- | --- |
| Role | Name | Other notable works |
Music
Both of the theme songs used in the Tokimeki anime, in particular the ending theme and accompanying animation, have become cult classics. They were released on vinyl back in the day, as was a soundtrack album.
Opening theme
Title: Tokimeki Tonight
Music and lyrics: Furuta Yoshiaki
Arrangement: Ōmura Masa'aki
Sung by: Kamo Harumi
A fun tune with an unforgettable cuica intro (I always thought it sounded like a flock of monkeys), which I often see described as "tropical city pop". The second verse of the song was used for the opening, and the lyrics first describe the love triangle between Ranze, Shun, and Yōko, and then go on to describe how the singer is so in love, she wants to spend the night staring into her lover's eyes.
The writer of the song, Furuta Yoshiaki, might be very familiar to fans of classic anime: he wrote both of the iconic themes for Perman (1983 series), as well as the opening of the classic Studio Pierrot magical girl anime Persia, the Magic Fairy. (Persia is a Shueisha property like Tokimeki, since it was based on the Aonuma Takako manga Persia ga suki! from Shueisha's Margaret magazine, which might be why Furuta worked on both.) Ōmura Masa'aki (who tragically passed away in 1997 at age 46) wrote and arranged many idol songs in the 70s and 80s, including hit songs for famous names such as Yamaguchi Momoe and Matsuda Seiko.
Kamo Harumi made her debut with the Tokimeki themes. She never became very famous, and it's difficult to find information about her, but according to the website Shōjo zankoku ezu (which collects information on B-grade idols from the 70s and 80s), she changed her name several times to "re-debut" during the 80s and 90s. So perhaps she's still making music today under a different name.
The opening sequence is barely animated, but the vivid colors and the pink throbbing heart (which dissolves into flying bats at the intro and many small hearts at the fade out) have always left an impression on me. You can still find parodies of it in places such as Youtube and Nico Nico Doga.
Ending theme
Title: Super Love Lotion
(everything else same as OP)
Another fun, upbeat disco-y tune, this ending is infamous for its very Engrish title that makes all listeners think of of lube, the unique lyrics about girls in love being magicians, and the fact that Ranze dances around wearing nothing but her father's cape. It's animated much more than the opening is, I'd say with much love and care, and looks very stylish and striking with the red of the cape and the blue of Ranze's hair and eyes against the stark, black background. Because of this, and its erotic nature, it's a parody favorite for fanart and fan videos.
For the last episode of the series, a version was made with all the main characters (even Shun and Tamasaburō) dressed only in a cape. The second verse of the song was used in this version.
Thank you to retrosofa for all the screencaps in this section!
Original Soundtrack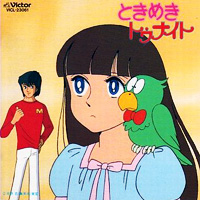 Label: Victor
Product code: JBX-25010 (LP), VICL-23061 (CD)
Format: LP and CD
This album was originally released on vinyl, and reissued in CD format in 1999 (in a two-CD set with the movie soundtrack of Kimagure Orange Road, probably because both were old, Shueisha manga-based Victor properties). It includes both the full and TV (short) versions of the opening and ending themes, as well as 17 pieces of background music and two songs sung by the voice actors of Ranze and Shun! You can listen to a snippets of this album at the Amazon page for the CD version.
Track list:
Tokimeki Tonight (TV version) by Kamo Hiromi
Makai no melody
Kanashiki hoshizora
The Funny Spy
Dracula no sakebi
Super Love Lotion by Kamo Hiromu
Konban / Tonight
Koi wa excellent
My Fair Gal
Rain Drops
Fuwafuwa Randevois by Hara Eriko (Ranze)
Shiokaze no barcarola by Mizushima Yū (Shun)
Twist & Kiss
Lost Love Nocturne
Tokimeki Walking
Magical Mystery Zone
Tokimeki Tonight by Kamo Harumi
Tsukikage no yōsei
Triangle Race
Wolf Woman Rock
Runrun Street
Tokimeki Lullaby
Super Love Lotion (TV version) by Kamo Harumi
Tokimeki Tonight / Super Love Lotion
Label: Victor
Product code: KV-3027
Format: EP
This single was only ever released on vinyl, and seems to have become a collector's item.
Track list:
A-side: Tokimeki Tonight
B-side: Super Love Lotion
Thank you to retrosofa for the LP sleeve scans!
Episode list
No.

Title

Summary

01
The secret of the étranger


エトランゼの秘密

Ranze falls in love with Shun, and bites someone for the first time.
02
The gate to Makai


魔界への扉

Ranze goes to Makai to be changed into a human.
03
Danger in the bathroom


バスルームの危機

Ranze changes into a bird so she can spend time with Shun.
04
A small friendship


小さな友情

Rinze runs way from home and meets Shun.
05
Ranze goes to Makai


ランゼ魔界へ行く

Mōri and Shiira are summoned by the king of Makai, and is told that he has a prince in the human world.
06
Romance in the foggy night


霧の夜のロマンス

Mōri and Shiira start looking for the prince, and Mōri tells Ranze about how he fell in love with Shiira.
07
The culture festival of horror


恐怖の文化祭

Ranze brings monsters from Makai to the school festival.
08
Action camera of love


恋のアクションカメラ

Ranze has a date with Shun, but Yōko butts in.
09
Tamasaburo's love


玉三郎の恋

Yōko's father Tamasaburo fakes being sick so he can be taken care of by Shun's mother Hanae, who is a nurse.
10
The invisible girl Miere


透明少女ミエール

An invisible girl moves into Ranze's room, and falls in love with Shun.
11
The birthday on full moon


満月の誕生日

It's Rinze's birthday, and Shun comes to the party. But it's a full moon!
12
Ranze's wish


うふッ!?ランゼのお願い

Ranze meets Santa, who turns out to be a real Santa from Makai.
13
The white lovers


白い恋人達

Ranze's class go skiing, and Shun teaches Ranze how to ski.
14
I saw it! Ranze is a raccoon dog


見た!ランゼはたぬき

After Shiira bit Ranze, she starts growing wolf ears and a tail whenever she looks at something round.
15
Sorry I'm naked


裸でごめんなさい

Yōko sees Ranze's wolf ears, and tries to expose her as a racoon dog.
16
The youthful runner of love


恋の青春ランナー

A boy falls in love with Ranze, and thinks that he'll be his girlfriend if she wins over Shun at the school marathon.
17
The flirtatious magician


浮気な魔術師

After Ranze recovers from a fever, she gains the ability to control other people's minds.
18
The title match of love


恋のタイトルマッチ

Prince Aron comes to the human world, and fights Shun at the boxing gym.
19
The sentimental great giant


センチメンタル大巨人

Shiira brings a giant from Makai to get engaged to Ranze, but he falls in love with Yōko instead.
20
Big confusion! The many Ranzes


大混乱!ランゼがいっぱい

A pocket mirror Aron gave Ranze can create copies of anyone who looks into it.
21
Love letter from E.T.


E.T.からのラブレター

Shun receives a love letter from someone called E.T.
22
Exciting! Pajamas game


ドキドキ!パジャマゲーム

Shun acts as a bodyguard when Yōko is home alone, but Ranze and Kunihiko crash her place.
23
The love story of Sand


サンドの恋の物語

Sand comes to the human world and falls in love with Hanae.
24
Passionate love! The great Makai war


熱愛!魔界大戦

Aron becomes jealous of Shun, and sends Ranze, Shun, and Yōko to Makai.
25
Transformation revealed: kill Shun


見られた変身・俊を殺して

Shun witnesses Ranze transforming, and Ranze has to choose between moving back to Makai and killing Shun.
26
Execution fleet! Space Wars


処刑戦艦!スペースウォーズ

Shun follows Ranze to Makai, but the king wants to execute him.
27
Smash! Shun vs. Rocky


激突・ロッキーVS俊

Shun has a boxing match with Rocky Aoki.
28
Delinquent angel: love hunter


つっぱりエンジェル恋のハンター

Yōko uses a cupid to try to get Shun to fall in love with her.
29
Shock! An encounter with the future


ショック!未来との遭遇

Ranze finds doors to the past and the future in the Etō mansion basement.
30
The prince's order for assassination


王子からの暗殺指令

Aron commands Mōri to kill Shun, so he can have Ranze to himself.
31
The migratory bird returns


帰ってきた渡り鳥

The gang is kidnapped by the mob.
32
Adventure! Island of lovers


冒険!恋人たちの島

The gang goes to the beach.
33
Tokimeki folk tales


まんがときめき昔話

Ranze goes to a museum and fantasizes about living in the stone ages.
34
Fall in love! The love triangle


恋して!愛して!三角関係

Shiira has a dream about Ranze marrying the other prince.
Magazine scans
Animage (October 1982)
This issue contains a pinup featuring the main cast, a comment and cute doodle by chief director Nagaoka Akinori, and an introduction to the series by producer Fujiwara Masamichi.
Thank you to retrosofa for these scans!
The Anime (December 1982)
You can see a feature on the voice actors here and a feature on the OP and ED animations here on the Anim'Archive tumblr.
Merchandise
It's difficult to find information on what sort of toys and merchandise were produced to tie in with the Tokimeki anime. I know that dolls, various stationary, coloring books, chopsticks, origami and much more was produced, and you can see a fun selection on the twitter account Tokimeki Mania as well as on these great Italian sites.
Ranze no Oshare Bag
Sometimes you can be lucky to find old toys for sale on Japanese auction sites, such as this "oshare bag" collection of "beauty products" for children in a cute yellow case (pictures from an action page that is no longer available):
Ranze mask
The "oshare bag" above is a rare item I've only seen once, but this "mask" is something I see all the time on Japanese auction sites. It looks absolutely nothing like Ranze, but the sticker at the top apparently makes it clear that this was supposed to be Tokimeki anime merchandise.

A bit of background: I'm not sure how it is now, but back in the 80s and 90s, stalls selling this type of celluloid masks were a staple at Shrine festivals. There would be rows and rows of masks, as you can see examples of in this google image search, most of them resembling popular anime characters such as Doraemon or Anpanman, or Tokusatsu heroes like Ultraman.
Straw
Plastic cup
Chopsticks and chopsticks case
Ranze dolls
Toy maker Takara (later Takara-Tomy, or simply Tomy outside of Japan) was a sponsor of the anime, and since Takara's flagship toys are fashion dolls a la Barbie, three types of dolls modeled after Ranze were released in 1982:
Tokimeki Ranze: Many photos are available on this page made by a Japanese doll collector. This doll is famous among collectors of fashion dolls, because its head and body were modeled after Jenny*, one of Takara's flagship toys, but had black hair; in effect, it's highly sought after today among collectors as a "black-haired Jenny". I've been told it didn't sell very well at the time, though, because girls didn't want a black-haired doll — blonde dolls were all the rage (and still are). This was a fashion doll in the style of Barbie, and was available with three different outfits, although none of the outfits are from the manga or anime.

* Technically, Jenny was called "Takara Barbie" at this time, because it was produced under license from Mattel until 1986. It never looked anything like the Mattel Barbie, however.

Oshare na (fashionable) Ranze: Photos are available on this page and in this Mandarake listing. This is a larger doll at about 40cm, and has a hard plastic head and hands, while the body is made from stuffed fabric. You can see in the two pages I linked that this doll was available with at least two different outfits, although I don't know if more were available. The doll also came with a pendant with Ranze's face engraved. I think this doll looks adorable, but I don't know if I think it actually looks like Ranze.

Kawaii (cute) Ranze: Photos are available at the bottom of this page. This is a tiny doll at about 13cm, and came packed with many small plastic gadgets that seem to have nothing to do with Ranze. The site I linked to explains that this doll was modeled after Takara's Sweet Non'no, which was a tiny doll that came in a box which contained the doll, a room, and many tiny gadgets, and Takara simply reused the molds for the gadgets when making the Ranze doll.
Availability
Japanese complete series DVD box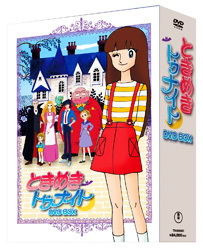 The entire series was made available in Japan on DVD in 2009, and is still available as new. I do not own it, but according to product descriptions at the official Toho site, the DVD box contains the following:
All 34 episodes on 6 DVDs
16-page color booklet
The two clip shows that were released on VHS in 1988
4 Ranze and Shun illustration cards with art by Ikeno Koi
Reprint of Ranze "odekake pouch" (first press only)
The 4 "illustration cards" feature art originally from the "Pinup best 5" furoku (July 1985), the "Fuyu no fantagic poster" furoku (Ribon Original Winter 1984), and the title pages of chapters 47 and 58.
The "odekake pouch" was a reader present item from the October 1986 issue of Ribon. I never thought I'd own it, but retrosofa was as kind as to pass it down to me! You can see a photo of the pouch as well as a scan of the box it came in below. It's made from fabric that seems water-resistant, and the ribbon in Ranze's hair is an actual ribbon. I've seen pictures of the original reader present, which had a print of minor characters on the back, but this version doesn't have that — that's my only gripe with this "reprint" version. Otherwise, it's adorable and I feel very privileged to own it!
The booklet also contains a hand-written message from Ikeno Koi, which retrosofa was as kind as to scan for me. Thank you so much! It's adorable.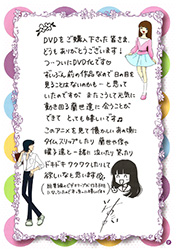 Italian DVD boxes
The anime was also released in Italy in 2008, in two boxed sets. They seem to be still available as new, and they contain both Italian and Japanese audio, as well as clean, no credits versions of the OP and ED themes (not included in the Japanese release). However, the ending of the last episode has been cut, and they do not contain the eyecatch animations. The Italian release is also less than half the price of the Japanese edition. Retrosofa has written a more detailed comparison of the Japanese and Italian iditions which you might want to check out before you decide!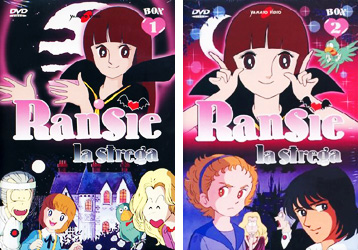 Arabic DVD box
An Arabic dub of the anime has also been released on DVD, in a complete box set. I believe the dubbed version that aired on Arabic TV was officially licensed, but that the DVD release is unofficial. I do not speak Arabic so I can't tell you any details, but I've found it for sale online for very cheap. I've been told that vintage anime is very popular in Arab countries, and that Tokimeki is no exception, which I think is very cool!
Fan translation
A fan translation of a part of the anime is available online.